Cool Grooves - Hard Facts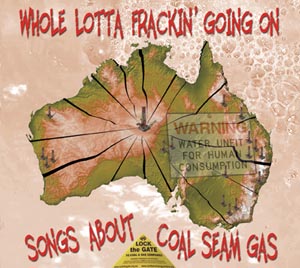 Whole Lotta Frackin' Going On is a compilation of radio-friendly songs that present vital information about the dangers of 'fracking' and coal seam gas (CSG) mining to our environment, food, water and society.
Fourteen songs in a wide range of genres to suit all tastes, plus interview excerpts with Australian CSG activist Dayne Pratzky, give a variety of viewpoints and firsthand experience of fracking's devastating impact.
Heartfelt lyrics set to cool grooves this CD presents the latest information about fracking and the toxic cocktail injected into the earth. It is a call to non-violent social action as advocated by the Lock The Gate Alliance, a national umbrella for Australian environmental organisations working to stop this destructive process.
Proceeds from CD sales support these groups. If you are such a group then please contact us to receive CDs at cost to sell to raise funds. If you'd like to help then you can purchase the CD here.
The songs are presented in a variety of genres to suit all tastes include the Voodoo Funk of 'Lock The Gate', Alt. Folk/Blues in 'Gasland', Hiphop/Rap in 'Act Locally, Think Globally' and 'My Water's On Fire Tonight'. There's Electro-Bluegrass Rap - 'Fracking Fluid', Country rock - 'Poison Well', Country - 'Lock The Gate Mate', Folk - 'Lie To Me' and 'Before It's Too Late', Trance - 'Terra Nova Frack / Clean Water', Positive Consciousness Rock - 'This World', Earth Rock - 'I Am Stone', Tribal Latin Rock / Rap - 'Wake Up' and Back Deck's haunting ballad 'Queen Barangaroo'

Click here to listen to all the tracks.